Well, I am totally lost my words. Maggie Rogers definitely one of the best musician that I ever known. Last Tuesday, she shared a picture of her handwritten letter on Instagram and told us that she will released her brand new song, Split Stones. This song was released as a gift for all her fans who already make her 'sang louder' and 'dance harder'. So, Split Stones might be her last single for a while and this is absolutely a great and wonderful single.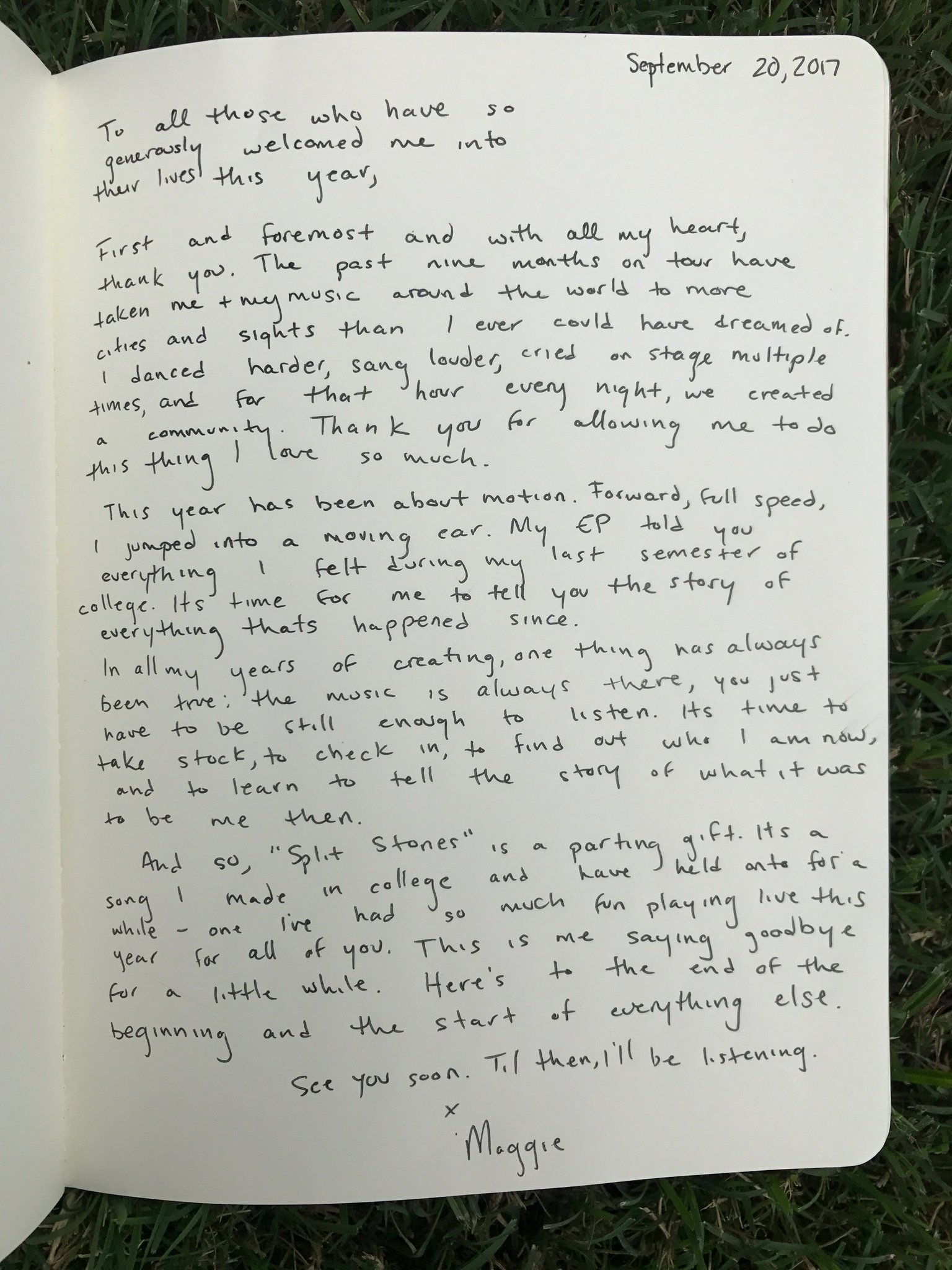 "'Split Stones' is a parting gift. This is me saying goodbye for a little while. Here's to the end of the beginning and the start of everything else." – Maggie Rogers-
For me, Split Stones already become our song of the month. This song is absolutely awesome and I can't stop listening since it first released until now.  All I can say, this song is so 'Maggie Rogers'. Still with R&B and electronic melodies, but this time she add the sound of glass, banjo play, and other nature and earth sound elements which makes everything so perfect to hear and dance. Plus, Maggie Rogers' smooth and beautiful vocals absolutely fit with the melodies. What a perfect song. Absolutely perfect.
Somehow, Maggie Rogers never failed to amazed me since the first time she introduced us to her debut single Alaska until her awesome debut EP Now That The Light Is Fading. Everything she creates absolutely wonderful. All I can say is thank you so much Maggie Rogers for this absolutely wonderful gift for all of your fans around the world. Definitely can't wait to hear new things from her.
For you who haven't heard Split Stones, I think you have to, really have to hear this song and I bet you will falling in love with this song since the intro. Just click the Spotify below and don't forget to share your thoughts and opinion about this song by give a comment in our blog. We will so happy to give a response for each comment. Thank you for visiting Kustosica.
Elsa